09 Jun

2014 – Week 23 – Internet Round Up
News
IKEA to sell electric bikes to eco-friendly commuters – IKEA is getting introducing a 60 lbs electric bike.called the FOLKVÄNLIG  which means "folk" and "friendly" in Swedish.  Not a surprising move as IKEA has always been a environmental friendly company which uses conscious packing techniques to reduce waste and renewable energy for their power needs.

Tens of Thousands Of Unsold Cars Are Being Parked In Lots And Left As Trash. This Is Absolutely Ridiculous – Lots of photos revealing multiple locations used as car storage.  The demand of vehicles have declined but auto makers are still producing with yesterday's demand in mind.  As a result, there are 10 billion cars on this earth versus 6 billion people.  This is definitely not a sustainable trend.

CicLAvia coming to San Fernando Valley in spring 2015 – Ciclavia coming into the San Fernando Valley. Finally! Dates have not been determined and routes are still being determined.  Most likely we will see Ventura or Van Nuys Blvd closed down.  An impressive 10% boost in local economies when you get 150,000 people on the streets.  That number goes up to 57% if you have a table and music to engage people.  We look forward to participating in this one as well as October 5th which goes through heart of LA into Echo Park and East LA.  There will also be the first CicLAvia in South Central LA on December 7th.

15 Reasons to Date a Cyclist – A fun list for those who are in the dating mindset.  Lots of good reason why cycling is beneficial to a person who is riding.  The reasons can be used as a list of why you should be cycling.

Equity Leader: John Jones III – The League of American Bicyclists is highlighting John Jones III of the East Side Riders Bike Club.  He is the President and CEO of the group who have been doing many positive things in the community.  If you follow them on Twitter or Facebook, there is always something going.  Jones have been doing many positive community based events to bring his Watts neighborhood together. I had the pleasure to meet and ride with this excellent individual.  Congratulations to John and ESRBC for the recognition.

Rest in peace Daniel Ezra Caldwell – Final blog post on Teaching Cancer to Cry announcing Ezra's passing.  Ezra's eclectic life and his constant pursuits of various passions in his life has touch hundreds if not thousands of people not only in his life but also online (check the comments if you want proof).  I mentioned in a previous posting that his bicycles and photos caught my attention about 5 years ago.  His tragic battle with rectal cancer was brave and his choice to succumb to the virus and life was even braver to make.  I hope he is in a better place and his loved ones are well.  Rest in peace dear Ezra Caldwell.


Velosourance Details Customized Bicycle Insurance to Protect U.S. Cyclists Traveling Worldwide – Bike insurance for the international traveler as well as local cyclist.  Velosurance looks to protect cyclists not only from accidents but also from your valuable bike from being stolen without impacting your homeowners or renters policy's rates.  Check out their website for more information.

Rep. Schiff First U.S. Congressman to ride in AIDS/LifeCycle Ride – Representative Adam Schiff made it a commitment to ride the AIDS/LifeCycle last year after he spoke at the closing ceremony.  He is the Representative for the West Hollywood area and is expected to be at the Los Angeles Gay Pride parade right after he is back from the ride.

The Rise of Bicycling in Smaller and Midsize U.S. Cities – Bicycle explosion in small to medium size cities. Article points out smaller cities like Davis, Colorado, and Santa Cruz have seen double digit growth in the last 2 decades.  They also pointed out that we still lack the types of infrastructure like European countries to make our country more bicycle-centric.  It is still a welcoming point to see another option of travel represented here.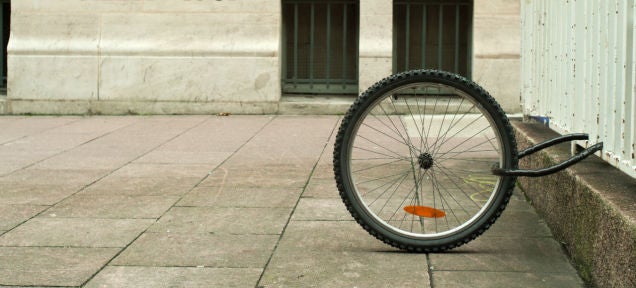 San Francisco Is Using GPS-Tagged Bikes to Bait Thieves – With the rise in bike thief to 70% since 2006, the San Francisco Police Department are using a transponder and iPhone to track stolen bikes with great success.  The thief is then charged with a felony for their crime.  The SFPD then shares the catch on their Twitter account @SFPDBikeTheft.  Other cities like Vancouver and Sacramento are also using similar techniques to catch bike theives.

Jaguar shifts focus from four to two wheels with Tour de France bike – Jaguar bike?  Not really as the company is helping Pinarello bike develop a more aerodynamic bicycle for Team Sky.  They are making available the technology in designing aerodynamic cars for the bike company to help improve chances of another TdF win for Team Sky in 3 years.  Other car companies like Lotus have done similar thing so this isn't exactly a new concept.

Prospect Park Rope Trap Snags Cyclist, Cops See No Crime – What is with people these days to go through the trouble to injure cyclists?  A rather safe place to ride previously but someone decided to tie a rope and string it across 3 lanes with the intent to cause bodily injury.  They succeeded as the rider who hit the rope suffered from a fractured elbow and broken ribs.  To add insults to injuries, the police did not report this as a crime and that the cyclists fell on his own after running over a rope.  Lawyers of the cyclist is planning to pursue this as a crime.  Hopefully, justice will be served as they investigate who did this.

Commuter Rail: Nona Vornado – Go Nona Varnado! I had the pleasure to meet and ride with Nona on several occasions and I've been humbled by her commitment in LA Bike Trains which helps people who are interested in bicycling to work but are too intimidated by LA's Traffic.  LA Bike Trains was featured on NPR a few months ago.  The interview reveals that she is also working on a non-profit called Bicycle Culture Institute.  Awesome interview from one of the big movers and shakers in the LA bike community.

Hit-&-Run Amber Alerts Could Be Coming to L.A. – With the rise in hit-&-run incidents in the city, there is currently a push to bring to the public's attention in order to help catch the felons who cause these collisions and run from them.  L.A. city's Councilman Mitch Englander wants to explore implementing an Amber Alert system similar to Colorado's Medina Alert.  This system was established when Jose Medina was tragically killed in a 2011 hit-&-run in Colorado.
Photo Essay: Home Is Where the Heart … Leads It – Interesting idea of "home".  Photographer Andrew Waits suffers from the lost of a family member sets out to live off the hustle and bustle of "real" life to discover that there is a whole sub-culture of individuals who choose not to participate in the American Dream of having a house and a mortgage payment or even a full-time job.  They are folks who choose to live in their RV or smaller vehicles around the country.  While some folks are out there because of life circumstances, most are out there on their own free will as they have money and even property.  Many folks are still connected via Internet even though they are "off-the-grid".  Home is not a place but really internalized within ones self.
Videos
Cyclist shot while participating in Cache Creek 600 cycling event – Yikes! We're going to be up there later this month for a bike tour from Vancouver down to San Francisco.  The victim is a 59-year-old cyclists who travels with the BC Raddoneurs Cycling Club.  He was one of 3 dozens of cyclists doing this ride.  He was found by other cyclists participating in the same event at 1AM.  He was shot in the forearm and is expected to survive.  The suspect fled on a pick up truck.  I'm hoping we don't run into characters like this on our trip.
Photos