Hydration is one of the most important things on a bicycle tour. When you're bike touring in remote locations where water facilities are not very common, having a way to carry your water is very important. That is why I found the MSR dromedary bags to be very convenient and useful for these purposes. I own the 6 liter version which holds about 1 and a half gallons of water. They come in 4 different sizes: 2, 4, 6, and 10 liters. I used to buy 1 gallon plastic water bottles and strap them onto my bicycle, but that got really cumbersome and awkward to carry. This dromedary bag has since replaced the need to go buy water bottles each time I go on a bike tour. Instead, I can fill up at camp with potable water, or I fill up at the water machines for a few cents. Here are a few things I want to highlight about these bags.

Features
These bags are have an abrasion-resistant nylon outer shell called Cordura®. This is important because being on the road, your gear gets worn down quick and to have something that can last longer than your typical plastic bottle or bag is a huge bonus. You don't want to have something that will leak after using it a few times. I wanted to make sure I have something that I can keep around for a long time.
When the bag is empty, you simply roll it up and store it in your pannier until you need it. That's the benefit of having a bag instead of a bottle. It can be stowed away easily.
Along the edge of the bags are rope ties that are used to help strap your bag however way you want on your bicycle. This is useful because it gives you options to tie things down with carabiners or straps. This was useful on my trip through Joshua Tree as the heat and riding conditions required you to carry plenty of water.
The inside of the bag is made out of BPA-free material, so it's safe to consume and you don't have to worry about any chemicals. You can pour in hot water or allow the water in your bag to freeze without impacting the bag's performance.
The bag comes with a cap that has a 3-in-1 feature. In my opinion, this shouldn't really be considered a feature. Anything that holds water needs to have a way of refilling it and pouring water out, so this isn't really that big of a deal. I do like the fact that you can purchase another cap with a spigot along with a shower system if you need it (I don't need it). I also heard you can get a water filtration system that easily attaches to the bag. That might be a consideration for future upgrades.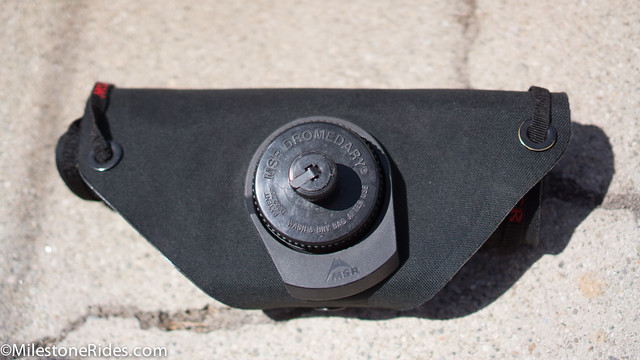 Downfalls
One of the biggest complaints I get from this bag is that it produces a plastic taste with your water. I can confirm that this is true, but it doesn't bother me as much as it bothers folks like my brother-in-law. In fact, he refused to consume any water from the bag during my Pacific Coast trip for this reason. He would just refill his own water bottle. The only time the bag was used was when the water got boiled or if he ran out of water from his own bottles. This only happened during our Joshua Tree bike tour when the temperature climbed to triple digits.
Even with a handle around the opening, it is still tricky to refill water bottles. The bag wobbles around and would need some wrestling to get it to pour into my bottles without spilling all over the place. It takes some practice to really master this, but when you get the hang of it, it's not so bad.
I would also love it if they had provided us with a cleaning kit along with the bag. A simple brush would be awesome. The kind they have for CamelBaks and a hanger. I suppose something like this is doable, but if it came along with the Dromedary bag, it would make the product so much better.
Final Thoughts
To summarize the review, here are the pros and cons list.
Pros
Very durable
BPA-free materials
Packs away small when not in use
Can hold hot and freezing water
Webbing and ropes on/around the bag for easy attachment
Cons
Plastic tasting water
Hard to pour water out when full
No cleaning kit
I realize there are several different solutions out there when it comes to a dromedary bag. Products from CamelBaks comes to mind, but I would rather not carry my water on my back during a tour. Yes it is convenient, but I want to strap it on my bike, and I want it to be durable. CamelBaks bladders are not durable and are prone to leaking with the hoses and nozzles. Having the MSR dromedary bag is simple and efficient. It may not be the best solution for others, but it is great for me.
Get your own 6L MSR Dromedary Bag at REI.
Disclosure of Material Connection: Some of the links in the post above are "affiliate links." This means if you click on the link and purchase the item, I will receive an affiliate commission. Regardless, I only recommend products or services I use personally and believe will add value to my readers. I am disclosing this in accordance with the Federal Trade Commission's 16 CFR, Part 255: "Guides Concerning the Use of Endorsements and Testimonials in Advertising.