News
How Bicycles Bring Business – Great piece from, you guest it, Momentum Mag about how bicycles bring business.  They go over several examples in cities across the country like Memphis, New York City, San Diego, etc. who are cashing on the bicycling boom. There is a potential of $6 Billion to $133 Billion of customer dollars if you're counting the recreation side of things as well.  For upcoming business, let's not lose sight of this opportunity to make tons of money.
Charting the path in Santa Monica – Santa Monica featured in the League of American Bicyclists!  The article was originally written by Lucy Dyke, Santa Monica's Transportation Planning Manager which talks about all the bicycle friendly businesses in the city and the goal of being the gold standard to bicycle friendly city in the country.  Read how Santa Monica is working with the Santa Monica Bike Center to get their mission accomplished.
Topanga Creek Bicycles' (almost) weekly newsletter – Here is Topanga Creek Bicycles' newsletter from last week.  They highlighted our 2 day adventures in Ojai with additional photos taken from Chris' mobile phone.  Great times all around!  Don't forget to check out my write-up as well.

House Backs Senate's Coast-to-Coast Bike Trail Plans – Finally some good biking news coming out of Florida!  They are planning to build a 250 mile route to connect the east and west side of the state.  They are on the verge of getting $15.5 million next year to get this done.  This proposal was shot down last year by Gov. Rick Scott last year as $50 million proposal.

Bike-share not coming to Phila. till Spring – Bike sharing coming to Philly next spring. Originally they were planning to have bike sharing ready for this fall but instead they will get it next spring.  There will be about 1,800 bikes available for 185 stations located around the city.  City officials site weather as being the reason for the delay.  Better late than never.
Global Heatmaps of Bicycling – Check out the heat map of bicycling activities from Strava data in the US. Fascinating stuff! Of course, this does not highlight everybody who is ever riding, like myself, who don't use tracking apps or GPS.  Check out your neighborhood and see how active bicycling is.  You might already know from watching people zipping in and out of your streets.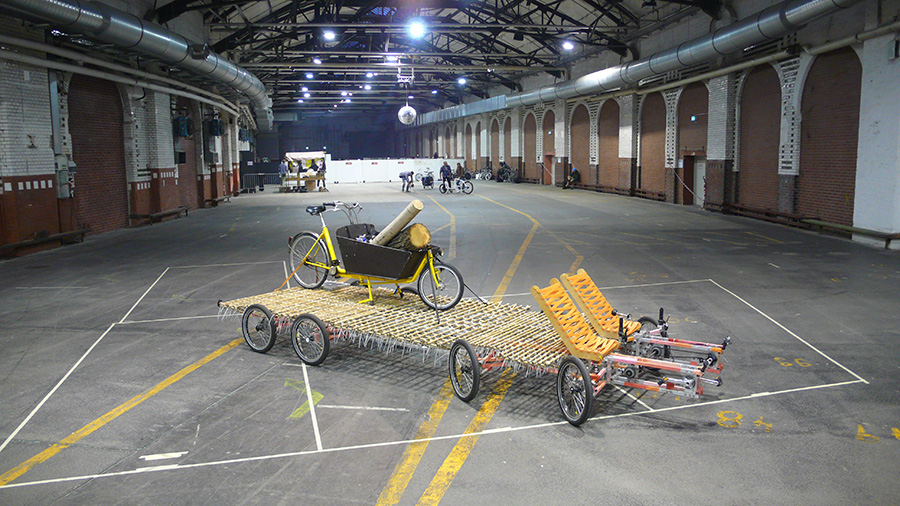 Eight-Wheeler Cargo Cycle – You thought cargo bikes are big. Check out this huge eight-wheeler.  Made out of bamboo with 4 wheel steering, 450 kg loading capacity, each wheel have independent suspension.  There are 2 drivers who can take this up to 10 – 15 km/h but can be improved with an electric assist motor.  This was spotted in Nijmegen, Netherlands.
Ride, Roll, & Stroll – Open streets coming to Pasadena 5/17!  Ciclavia-like event where Colorado Blvd in Pasadena, California will be closed from Pasadena Avenue to Lake Avenue.  Come out and ride your bike, run, or walk during this event at Bike Week.  Thousands of families will be out participating.

LA is Installing Self-Service Bike Repair Stations in 10 Spots – 10 more self-serving bike repair stands in LA! First one was installed in Sunset Plaza earlier this week.  There are also 2 more in Highland Park and Eagle Rock which features common tools to help cyclists adjust and fix their ride so they can get on their way.  More good signs that the bicycle movement is here to stay in Los Angeles.
Videos
SweetRideUSA interviews Damian Kevitt – Sweet Ride USA's interview of Damian Kevitt of Finish The Ride. We hear more details of his accident and why he's committed to finishing the ride on April 27th.
British satire on bicycle safety – Part 2 of 2 – Top Gear talks about cycling issues and their hilarious PSA
The Rise of Protected Bike Lanes in the U.S. – Rise of the protected bike lanes! We need this everywhere.
Photos