News
Your First Overseas Bike Tour: A How-To Guide – Something we'll need in the future when we go on our first overseas bike tour.  This general overview goes over how to go on your first oversea tours either with a tour company, on your own, or with a self-guided tour option.  It dives into the strategy of picking the right tour company and picking a destination.  They even tell you where to go best on your skill levels and how many hills there are.  Good read for those considering an overseas adventure.

2014 Bicycle Travel Video Contest – Adventure Cycling Association announced their second annual Bicycle Travel Video Contest earlier this year.  For some reason, they have not received that many entry from the US.  There are 3 categories to submit your videos to and prizes will be awarded.  So let's get those videos out there for Adventure Cycling's video contest!  The deadline is on June 30, 2014.
How Uber Plans to Beat Amazon with Bike Messengers – Uber is experimenting with a same-day delivery service called UberRush.  This isn't a new idea as bigger companies like Amazon, FedEx, etc. have been trying hard to figure out the right formula to get what their customers want on the same day.  The idea is to use the app to manage bike messengers for deliveries.  This is currently being experimented in Manhattan, NY.
With NACTO Guide Endorsement, California Transportation Could be Changing Fast – Four months after a controversial external report calling California's transportation department to change their ways, we're finally seeing some changes.  California is adapting the National Association of City Transportation Officials' street design guides.  California would be the third state after Washington and Massachusetts to endorse NACTO's guides.  This is great news as improved infrastructure will bring on good changes for bicycling for California.
Avoid fast cars and ride a bike instead, Pope tells trainee priests and nuns – Pope Francis tells 6,000 priests and nuns from 66 nations to avoid fast cars during mass earlier in the month.  He cites that people are caught up with materialism and that has trickled into the church as he sees priests and nuns driving expensive cars.  The Pope praised the beauty of the bicycle and encouraged the continue usage.  This is the first time I've read any religion related news intertwined with bicycle advocacy.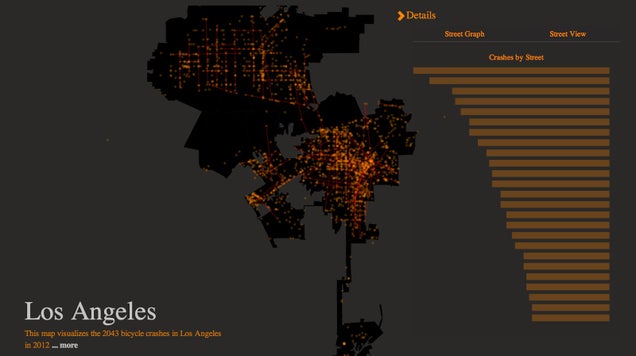 Visualizing L.A.'s Bike Crashes –  Gizmodo continues their coverage of bicycling for the past few weeks with a visual map of all 2,043 bicycle crashes in Los Angeles in 2012.  It's a visually stunning image which we hope someone can use to encourage safe riding.  They gave the top 3 offending streets: Olympic, Venice, and Sunset.  I am very surprised at Venice as that street is wide at certain points and have bike lanes once you pass Crenshaw heading west.  As for the other 2 streets, I would spend very little time on them as traffic is fast and the streets are lined with cars.
Bike Lanes Don't Lead to Congestion, But Some of Them Should – Bike lanes don't lead to severe or even heavy congestion according to this study in Minnesota.  This is helpful to counter argue against people who thinks adding bike infrastructure severely hinders the movements of automobile traffic when in fact the impact is moderate as indicated.  I think having safe streets should be a higher priority than the through-put of motorized vehicle traffic.  This will benefit all pedestrians and the local community.
How not to be a jerk while riding your bike – This article was sent in by a good friend of mine in Philadelphia.  It's a great article outlining what actions are legal or illegal as well as how motorists' perceive them as rude.  This isn't your finger wagging article towards cyclists but an insightful piece that would benefit motorists more as it will let them know what is legal and not legal.  At the end of the day, cyclists are trying to travel like any other people in a community.  We have the right to travel safely without harassment and actions that jeopardize our safety.
'I just don't care' Australian motorist tells police after hitting biker while texting and driving – We may never ride in Australia. There's this story & the BMW worker who is telling people to run down door cyclists.  I'm not sure where all these animosity towards bicyclists are coming from as I've read many different blog posts and adventures from the land down under but the negative publicity is clearly telling some bicycle tourists to stay clear from areas like Melbourne and Koroit.  I certainly hope this attitude changes as this has negative impact on their local community and their local economy.
Videos
Inventors: Bike Helmet of the Future? – Augmented helmet of the future! Neat idea as the helmet is covered in LED lights which indicates your intention as you tilt your head to let drivers know your action.  You can signal left or right or even tell the drivers that you are getting ready to stop.  The prototype looks a bit goofy but hopefully this is the beginning of something we may see more of in the near future.
4 Year Old BMX Twins – These 2 kids are amazing!  4-year-old Kiwi boys shredding it up in bike tracks like pros.  It's scary to see how good they're going to be when they start riding pro.  Be on the look out for these 2 talent daredevils in the coming years!
Images